Circle Terminus
Project Description: A 359 unit luxury apartment complex spanning the two remaining development sites in Terminus on structured parking 463 spaces. A circle brand concept developed by Crescent Resources that focuses on providing a sense of community for its tenants.
Click image to download all documents: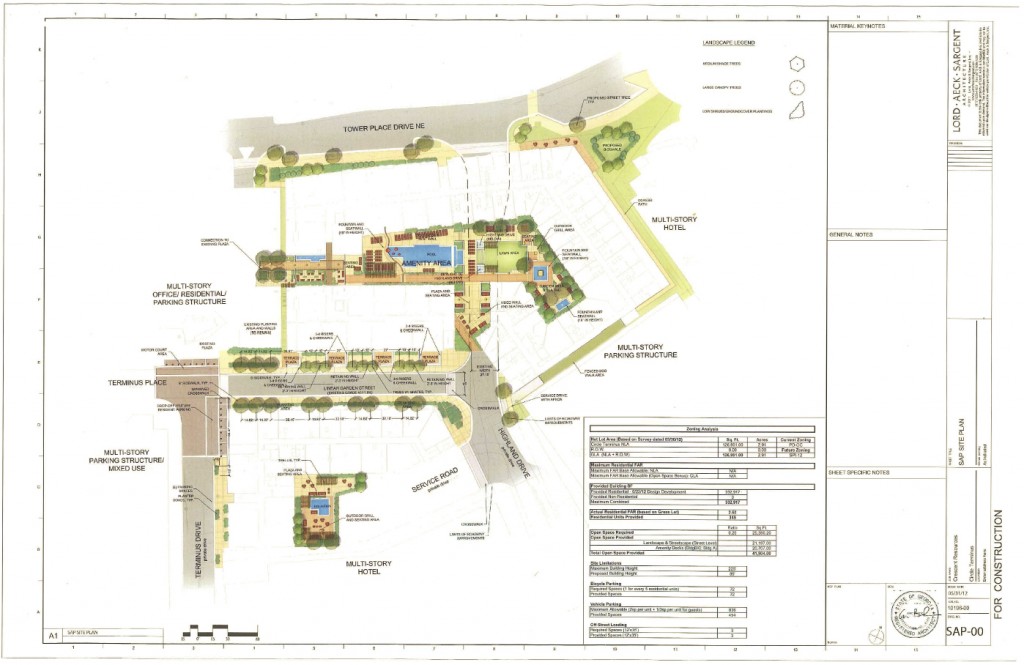 Applicant: LAS Architects, Jay Silverman
SAP#: 12-073
Project Scope: 359 apartments, 463 structured parking, 2 bldgs, LEED certified
Variation Requested:
The DRC noted concerns about the proposed bridging of Highland Road, which ranges in clearance height from 14 to 29 feet.  The DRC noted concerns about the tunnel-like quality of this space, the lack of active uses on the street face, the safety and general aesthetics of this area.  The DRC members offered several ideas for consideration including, wrapping the area with active uses, incorporating public art, incorporating the fitness center, minimize, reshape and/or relocate structural columns to provide as much clear space as possible,  provide artistic lighting, vertical penetrations to the amenity deck above to allow sunlight to filter into the space.
The DRC noted concerns with Terminus Drive – specifically that it is not activate and does not appear to meet the fenestration requirements for minor street sidewalks.
The DRC noted concerns with loading on Highland and suggested this be reconsidered as this is a major access point in the street network, not an internal service drive.
The DRC noted concerns with the configuration of the pet walk area – being overly long and narrow and recommended the Applicant explore opportunities to rework this area.
The DRC noted they liked the general design of the proposed project in terms of look and feel, however, since significant revisions are needed to address the issues raised requested the applicant return to present the revisions at the July meeting.
First Revision – July 2012
Second Revision – October 2012