4237 Roswell Road – Rock n Taco – Second Review
Project Scope:  Rooftop Deck Second Review
Click image below to download all documents: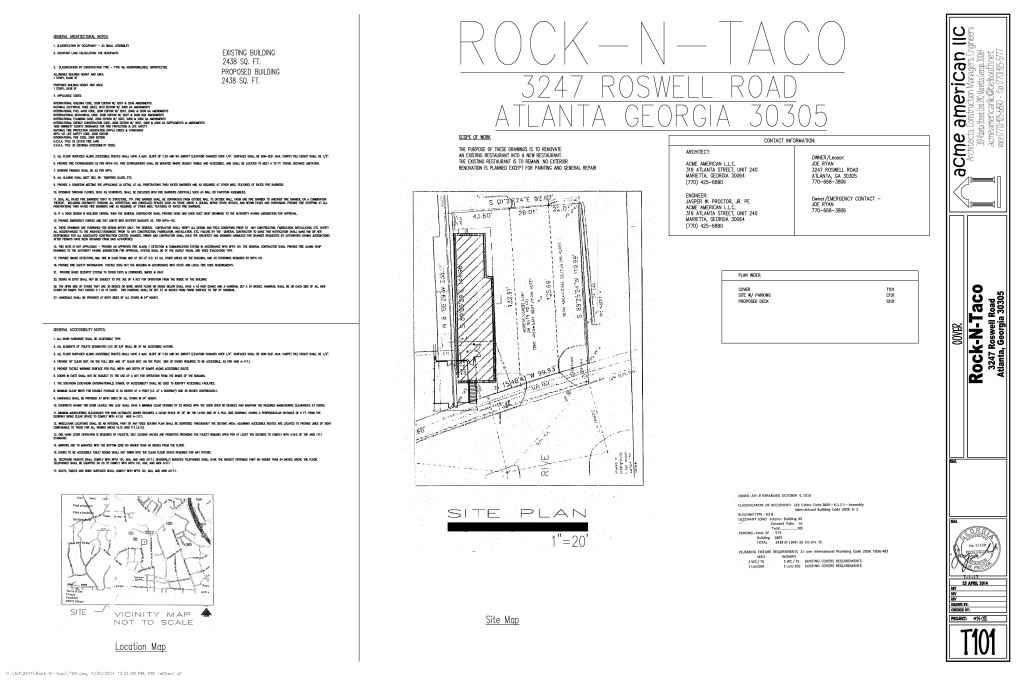 Applicant:  Antrell Gales/Joe Ryan/Brad(?)
Variation Requested: Second review
Recommendations:
Revise plans to properly reflect sidewalk and landscape areas adjacent to Roswell Road as well as cooler, dumpster and landscaping on the southern edge of the site.
Sec 16-18L.017(2) – Provide 4' wide sidewalk (or pavers) from Roswell Road sidewalk to the building access doors fronting Roswell Road.
Sec 16-18I.019(4) – Screen dumpsters with minimum of 6 foot opaque wall and gate.
Sec 16-18I.017(3) – Include Building Address at least 6 inches in height on front of building.
Sign Ordinance 16-28A  remove existing sign and incorporate new signage attached to building as allowed in sign ordinance
Sec 16-18I.025 – Bicycle Parking – modify proposed location to provide better accessibility to the rack and mitigate interference with parking.
Revise plans to clarify that bar on rooftop deck is  a service bar only.
Sec 16-18I.023(5) Table – Parking Requirements – revise plans to reflect calculation of parking requirements 1 parking space per 300 sf of floor area.
Sec 16-18I.017(5) – Fenestration – Ensure proposed façade facing Roswell road satisfies fenestration (window) requirements of 65%
Sec 16-18I.017(6) – Ensure fence on ground level surrounding outdoor dining does not exceed 36" in height and satisfies alcohol code requirements.
Sec 16-18I.023(5)(b)(5) –  Valet Agreement – provide a valid agreement with valet that designates specific spaces being used for offsite parking.
Sec 16-18I.023 (4) – Provide shrubs or other decorative fence or vegetation between 30 and 42 inches in height between the Roswell Road sidewalk and adjacent surface parking for the establishment
Ensure adherence to easement with adjacent property owner to not block access to their property.