4237 Roswell Road – Rock n Taco
Project Scope:  new rooftop patio
Click image to download all documents: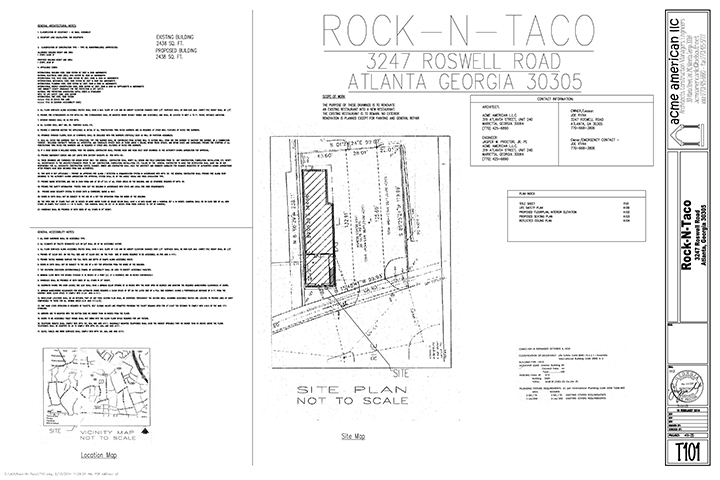 Applicant:  Antrell Gales
SAP#:
Variation Requested:
 Description: The applicant is proposing to build a rooftop deck over the existing enclosed patio of the current structure.
The plans presented to the committee were not appropriately scaled and did not include any site detail as required for the committee to provide comments.  The applicant has been instructed to develop detailed plans before returning to the DRC.
Initial comments provided are outlined below:
The previous work to enclose the outdoor space appears to not be properly permitted.  This must be corrected as part of the SAP submittal. The property owner must sign off on the Special Administrative Permit.
Parking and square footage needs to be verified and broken out by the type of space (indoor, outdoor patio, etc).
Landscape requirements for the parking lot will be required Fall 2014 and should be satisfied at this time.
Sec16-18I.025 Minimum Bicycle Parking Requirements.  One bike rack for every 4,000 sf or two racks (the greater of the two calculations)are required.
Section 16-18I.023 Off street parking requirements (see table).  Parking includes 1 space per 300sf of indoor dining and 1 per 400sf of outdoor dining.  The minimums are 75% of the maximums.  The applicant needs to confirm and include the calculations on plans.
Section 16018I.017(2)(a)(b) Pedestrian entrances shall  connect the  building entry directly to the street.
The president of the neighboring Buckhead Village Lofts and their attorney were present to provide additional concerns regarding the proposed development.  There is an existing access easement with the HOA that is not currently being honored.  The valet operation is blocking the driveway in for the residents creating an unsafe condition and blocking the residents from accessing the development.  Additionally, the noise from the live music and outdoor speaker systems appear to be in violation of the alcohol code.  The applicant and the HOA are going to work through these issues prior to the next review of the project by the DRC.