3072 Early Street (Pearsons)
Project Scope:  The applicant presented plans to modify the existing building to enclose the front arcade and modify the façade to a 2 story structure with retail on the bottom and retail/office on the second floor.
Please click on image to download all documents: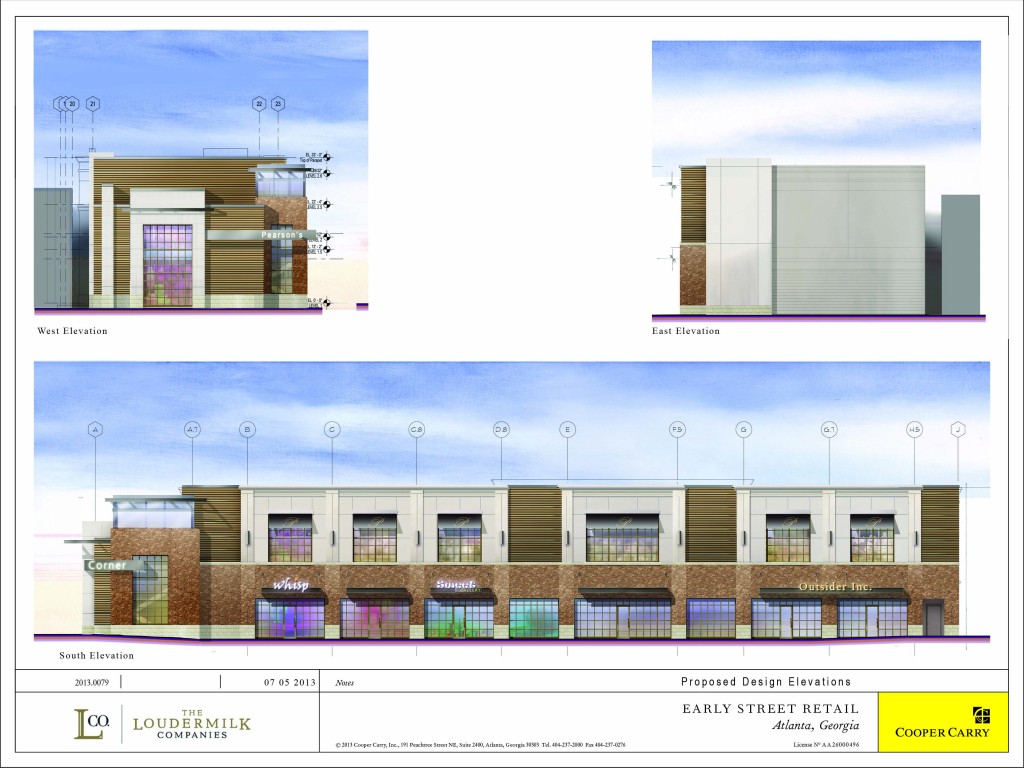 Applicant:  Chip Pottinger
SAP#:
Recommendations:
Parking must be screened from view by adjacent streets with a 30 to 42" vegetative screen.  This needs to be addressed on both frontages. (Sec.18I.023).
Handicapped parking spaces must be 8'x18' with an adjacent 8' wide loading zone. The applicant needs to revise plans to satisfy these requirements.
Shift parallel parking spaces to facilitate backing in.  Specifically spaces 28-24 should be shifted south toward West Paces to make space #24 longer and spaces 23-20 should be shifted north to make space #23 longer.  City standards for parking space size are 8 ½'x18' per space.
Sidewalk materials must be continued across driveways at the same grade and cross slope. (Sec. 16-18I.020 (1) )
Surface parking lot requirements for landscaping must be met (Sec 16-18I.022)  Adding additional landscaped islands interspersed through the lot and additional landscaped area behind the Early Street frontage will help achieve this.
Both entrances must not exceed 24 feet in width for two way operation or 12' for one way operation.  (Sec16-18I.020)
Per Sec 16-18I.010, certain requirements of the zoning ordinance (.015. 016 and .017) do not apply unless improvements/renovations encompass the lesser of 40% or 8,000 addition of space which we don't believe this application does. However, given the importance of pedestrian connectivity and the gap in that connectivity on the side of the development facing Early, it is recommended that the applicant coordinate with the Buckhead Community Improvement District to incorporate this frontage in their streetscape enhancements plan for the Buckhead Village.  Early is a Type 4 street which must follow streetscape requirements which include a 4 foot amenity zone, 6 foot sidewalk zone and 5 foot supplemental zone (Sec 16-18I.015 and .016)
 Bicycle parking must be provided pursuant to Sec 16-18I.025 – the greater of either 2 spaces or 1 per 4,000sf.