PARK(ing) Day
Park(ing) Day Food Truck Event: Friday, September 15th 
Tomorrow, from 11 a.m. to 2 p.m., 30 spots in the Lenox Square parking lot along Peachtree Rd. will be transformed into mini parks as part of PARK(ing) Day. The event also includes activities for the Buckhead lunch time crowd, such as food trucks, guided yoga sessions for both adults and children, and Segway tours. Each of the mini-parks will have interactive elements as well, and visitors will be asked to vote for their favorites. 
Friday's line up will include the following trucks:
Trucks are subject to change without notice. Please visit us on social media the day of the event for the most current information:
Planned mini-parks include:
An infinite forest created by the 2016 PARK(ing) Day winning team, HGOR with Collins Cooper & Carusi 

Adult and kid yoga stating at 12 p.m. by Out of the Box Yoga

A meditation tent by lululemon

A meadow in the city modeled after Chicago's Millennium Park, created by Pond

A pen featuring several four-legged crew members from Get Your Goats, a company that rents goat herds to clear brush 

A backyard BBQ hosted by Atlanta History Center

A solar cell phone charging station hosted by Gables

A small fitness boxing ring by Sweet Science Fitness Boxing Club

The Great Atlanta Parking Pardon by Lyft, where anyone with a parking violation can receive a $25 credit for Lyft Line
Thank you to all of our Sponsors: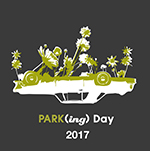 WHAT IS PARK(ing) DAY?
PARK(ing) Day is a worldwide event where citizens, artists, and activists collaborate to temporarily transform parking spaces usually reserved for cars into temporary public parks or displays of art or community.
Buckhead has a great opportunity to demonstrate the lack of public park space in the community and emphasize the importance of parks! Livable Buckhead will use PARK(ing) Day to help call attention to the need for more urban open space, to generate critical debate around how public space is created and allocated, and to provide a fun opportunity for positive community interaction in an unlikely place: the Lenox Square parking lot!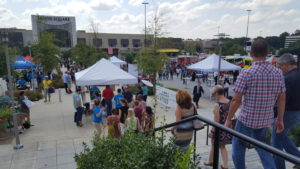 THE EVENT
For PARK(ing) Day, Livable Buckhead will work with partners and sponsors to transform 30 parking spaces in the highly visible Lenox Square parking lot facing Peachtree Road into "park-like" settings over lunchtime on Friday, September 15th. The goal is to demonstrate the value of increased greenspace in our community by swapping parking for some fun and creative play spaces.
HOW DO PARKING SPACES BECOME PARKS?
Each sponsor will be given a space in the parking lot. The sponsor can decorate in a way that embodies their organization OR donate the space for a nonprofit to transform. Either way, sponsors or nonprofits supply materials and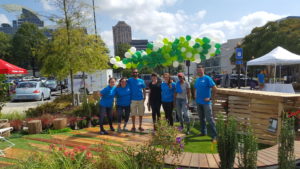 theme for the space. The only limitation is imagination. In other cities, parking spaces have been transformed into temporary free health clinics, urban farming demonstrations, art installations, free bike repair shops, mini-soccer fields – the possibilities are endless! Of course, no religious, political or otherwise offensive messages are allowed – and no open fires – but that's about it for rules.
Livable Buckhead and Simon Property Group reserve the right to remove any displays deemed offensive.
PARK(ing) Day – 2016