BUCKHEAD REdeFINED
ONE PLAN. SIX BIG IDEAS. A COMMUNITY OF PARTNERS.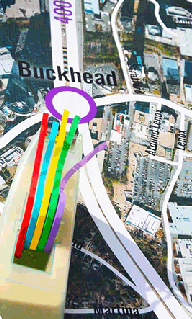 Buckhead is recognized internationally for its residential neighborhoods, corporate offices, regional shopping, dining destinations and entertainment options. Today, Buckhead is in the middle of a transformation from a place designed around the automobile to a more vital urban center focused on the pedestrian experience and mobility options. Yet, key challenges must be overcome in Buckhead's future public and private realms for it to achieve its full potential as a great, distinctive urban place. 
This transformation began more than fifteen years ago, with release of the Buckhead Action Plan, a Livable Centers Initiative (LCI) plan. The plan set in motion a framework for collaboration and a series of improvements to connect area parks, trails, schools, and neighborhoods to Buckhead's central core and transit. Today's residents, employees and visitors are discovering how connectivity and mobility options are enhancing quality of life.
Download the Executive Summary.
Final versions of the plans after revisions were made to address City of Atlanta staff review and comments:
Download Final Report.
Download Final Appendix. 
Download the Final Report by chapter:
SIX BIG IDEAS.
BUCKHEAD REdeFINED is the result of a robust and meaningful public engagement process through which the community defined its values and future aspirations. Their voice and vision is summarized by the plan's SIX BIG IDEAS, which are each reinforced by a series of implementable strategies, programs, and actions.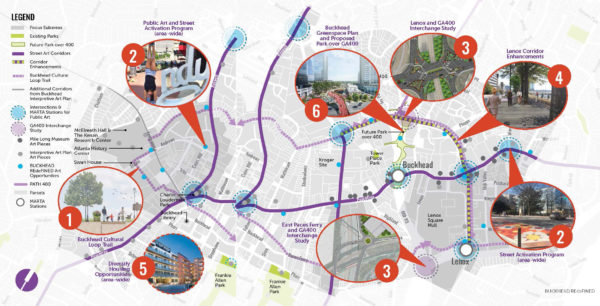 SUBAREA STRATEGY
BUCKHEAD REdeFINED identifies six subareas, geographically from west to east.
Each subarea is defined per existing land use patterns, zoning boundaries, major transportation corridors, and potential for future development. Subareas differ from those identified in the 2001 LCI Plan, specifically removal of Peachtree Road as a standalone subarea due to completion of its recommended streetscape and road design improvements over the last 15 years. Adjacent single-family neighborhoods were generally excluded from study in accordance with previous recommendations to preserve their existing character.
Each recommended Mobility and Vitality project is identified by a unique project number. Mobility projects are listed in order of priority. Vitality projects are identified sequentially and do not necessarily indicate priority. Some recommended projects are listed more than once as they may extend or touch more than one subarea, such as the Buckhead Cultural Loop Trail.