3380 Peachtree Road
Project Scope: New construction of 219 unit apartment development, 308 parking spaces on 1.964 acre site (site of current Dante's)
Click picture below to download project files: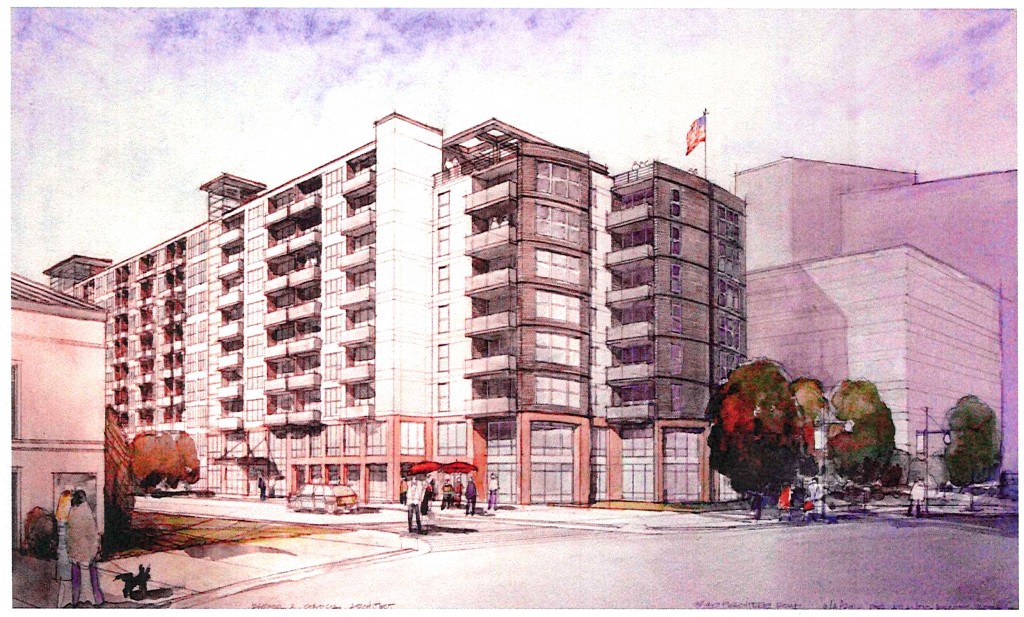 Applicant: Atlantic Realty
SAP#: not filed – pre-application meeting
Variation Requests: (not filed)
Ceiling Height minimum for first floor – allow height to be articulated on façade through materials selection, but not reflected in interior space.
Reduction in Loading Zones from three required to two.
Recommendation:
The Committee has requested the developer make several changes to the proposed project prior to filing for the Special Administrative Permits and come back before the committee at the December meeting prior to final recommendations being made regarding the requested variations. Specific suggestions include:
Accommodation of the future pedestrian circulation plan along the rear and eastern frontages of the building. Specifically activating the rear end of the building and providing ground level entrance and potential retail or active use space to provide direct access to future pedestrian "plaza" space and access to northern concourse of Buckhead MARTA station.
Designing the back drive and associated detention in response to a future potential green space in the adjacent property to the rear of the site.
Consider providing future ability to access the proposed street network (specifically item 14 on the pedestrian circulation plan map) from the lower parking level to provide accessibility to a signalized intersection.
Exceed bike parking requirements given adjacency to future GA400 greenway trail.
Incorporate public art.
Pursue all green features possible with a focus on recycling (multiple trash chutes and collection areas on each floor).
Incorporate green rooftop deck.
Eliminate "alley" access on eastern side of building from Peachtree via a "wing wall" or other architectural element.
Incorporate some type of green façade on parking deck. (Retain required "headlight" screen, but consider incorporating green/landscape elements above.