the buc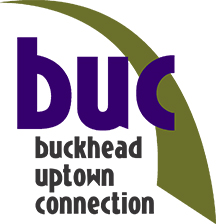 The buc is the fast, frequent, FREE shuttle service that connects MARTA riders with key Buckhead destinations, including local office buildings and shopping destinations.
Making frequent stops during commute hours, the buc is the best way for transit riders to make the "last mile" connection to their location. There's no cost, just hop on the shuttle and let someone else worry about the traffic.
Routes
The Piedmont-Lenox Line provides connections between MARTA rail and office buildings in the heart of Buckhead's commercial core, including Lenox Square, Phipps Plaza and office buildings and hotels in the area north of Piedmont and east of the Buckhead Loop. It stops every 10 minutes during the morning commute (6:30 a.m. to 9:30 a.m.) and the evening commute (3:30 p.m. to 7 p.m.)
The Lenox Park Line provides connections between MARTA rail and the Lenox Park/AT&T development.  The line interfaces with the Piedmont-Lenox Line to provide connectivity to the Buckhead commercial core at Stop #D Atlanta Plaza. It stops every 8 to 15 minutes during the day (6:30 a.m. to 8 p.m.). It also features extended service to Lenox Square Mall during lunch hours, stopping every 20 minutes between 11:30 a.m. and 2:30 p.m.
Launched in 2003, the buc is the direct result of a partnership between the Buckhead Community Improvement District, which provides the majority of the funding for the system, and Livable Buckhead, which plans the system and oversees its daily operation.
For more information, including route maps and attractions, visit bucride.com. For questions regarding the buc, call (404) 812-7433 or email info@bucride.com.