Katie O'Sullivan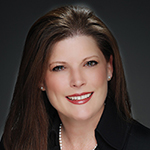 Katie O'Sullivan
is currently employed with Crocker Partners LLC as General Manager overseeing approximately 1.4M square feet of commercial office space in Metro Atlanta. Based in Boca Raton, Florida with a secondary office in Atlanta, Crocker Partners LLC has consistently employed the most talented individuals within the Southeast and Southwest Real Estate markets in its multi-decade quest to identify, acquire and add value to all sorts of commercial real estate. The proven investment strategies of Crocker Partners have repeatedly produced above-market yields in various different cycles of the Real Estate market. Katie's responsibilities as General Manager are focused on financial management of Commercial Real Estate assets with specific attention to assisting with the acquisition and disposition processes, tracking expenditures, budgeting and operating expense preparation, capital projects, leasing, as well as any and all other aspects of the daily operations of the properties she oversees. As well Katie serves as the liaison with the communities in which her projects reside striving for harmony with regards to each entity's interests.
Katie has been in commercial property management in Atlanta since 1994 gaining her introduction to the field with Atlanta based development and management firm, Cousins Properties. While with Cousins Katie was part of the team which began and completed the construction of the Pinnacle Building adjacent to Lenox Square which remains an iconic presence of the Buckhead skyline today. Katie has also worked with Wells Real Estate Funds, CBRE, Taylor Mathis and a local firm founded by Atlantan Kim King, Fifth Street Management. In these roles she has managed many millions of square feet of commercial real estate both in Atlanta as well as around the nation and has learned many skills which makes her an invaluable resource. More importantly Katie is a resident of the Buckhead community with her husband's family ties to the area dating back to the early 1900s when the family home sat where Piedmont Center is today. Their children attend The Goddard School on the very ground where their Grandfather and Great Grandfather once shared meals and played games throughout the summers. As such Katie and her family bring an interesting perspective and a very attentive interest in the direction that the area is heading.
This entry was posted on Wednesday, June 10th, 2015 at 4:25 pm and is filed under . You can follow any responses to this entry through the RSS 2.0 feed. Both comments and pings are currently closed.
Quick Links
Loading
Donate to Livable Buckhead
Last Tweets
Follow @LBI30326