Greenspace
Mission
Buckhead has long been called "the Beverly Hills of the East," and "the Jewel of the City of Atlanta," yet it has less green space than any other area in the City of Atlanta and less than most premier cities in the United States.
How does Buckhead compare in parkland to other premier cities in the United States?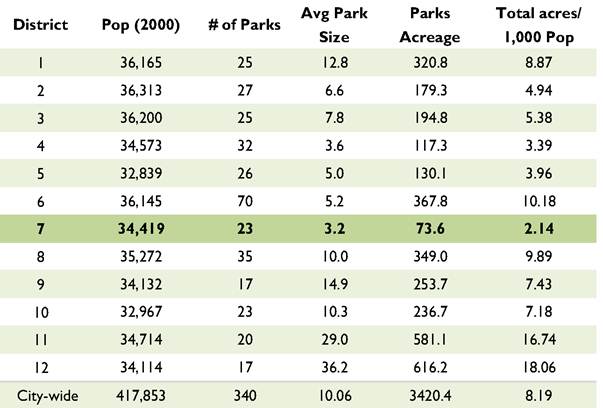 Livable Buckhead was created specifically to take Buckhead from "dead last" to the top of the heap in terms of green space and has been tasked with implementing the greenspace vision identified in the Buckhead Collection by serving as the catalyst and vision-keeper for the plan.  Livable Buckhead will do this working together with partner organizations bridging commercial and residential interests.
Initiatives
The Buckhead Collection identifies five major areas of work necessary to create and sustain a world-class parks system in Buckhead.  These key areas are outlined below:
Support Existing Parks

– Buckhead has a handful of existing parks already operating with the support of tremendous local partners.  Livable Buckhead will work to bring these parks together to leverage activities in a manner that will supplement the existing support and seek opportunities for united gain.

Parks Council

– Livable Buckhead has created the Buckhead Parks Council, which was kicked off in March 2012.  Through this council, Livable Buckhead will seek to foster the bonds between existing park operators, facilitate the advancement of overall knowledge and to seek opportunities to leverage collective efforts.

Develop New Park

– The Buckhead Collection identifies the demand for several new parks of varying size and function.  Livable Buckhead will work to develop these parks and to provide assistance to community groups working to site parks.  Additionally, Livable Buckhead has been designated as a Certified Land Trust (make active link to DNR website) to facilitate the development of future parks through donation of easements and lands in a manner that provides tax benefits to the donor.

Parks under consideration and/or development at this time include:

Mountain Way Park

– Friends of Mountain Way Park has been established to work with GDOT to develop GDOT land into a community amenity.  Efforts are underway to develop the vision for the park and to work with DOT to obtain agreements.

Loridans Park

– As part of the GA400 Trail, the development of a neighborhood park/trail access point is under development.

Tower Place Park

– In 2012, Tower Place Holdings, LP donated to Livable Buckhead its rights to redevelop Tower Place Park into high rise hotel and commercial development in perpetuity.  The value of this donation has been estimated to be $5 – $8 million.

Buckhead Forest Community Park

– The Buckhead Forest Civic Association is exploring the opportunity of reclaiming a dead end street and adjacent blighted creek to develop a neighborhood park.