Tran$ave – Discounted transit passes

Livable Buckhead, in partnership with MARTA, provides unlimited monthly Breeze cards at a 20% discount to Buckhead commuters through their employers and property managers.
Commuters
Why drive to work and waste money on gas? Pay just $76.00 per month and get unlimited rides on MARTA trains and buses for an entire calendar month – and arrive to work refreshed and relaxed.
Click here for a list of Buckhead properties who sell discount MARTA cards on site.
Click here for a list of Buckhead employers who offer discount MARTA cards.
Click here to contact Livable Buckhead's Program Administrator to get a program started at your workplace.
Employers and Property Managers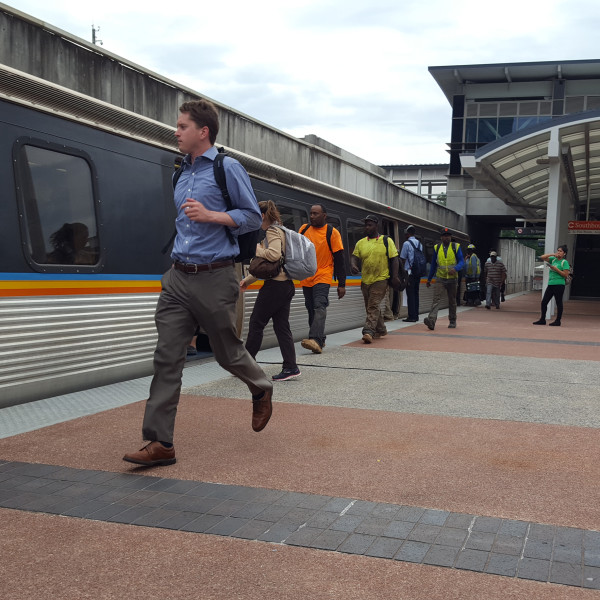 Would you like to provide a free, stress-relieving benefit for your employees?
Do you have employees who ride MARTA to work?
Would you like to encourage your employees to ride MARTA?
 If you answered yes to any (or all) of these questions, Tran$ave is for you!
Livable Buckhead's Tran$ave program offers monthly MARTA Breeze cards at a 20 percent discount — $76 per card instead of $95. This is a great opportunity to offer a valuable employee benefit at no cost, and with minimal effort. The cost of the cards can be covered by either employees or the employer, as long as the employer provides a single payment to Livable Buckhead each month.
No long-term commitment required
No minimum – order only as many cards as you need each month­
To get started:
Designate a Tran$ave coordinator for your company. Ask the coordinator to contact Calvin Cromer (calvin@livablebuckhead.org or 404-842-2684) to enroll.
Determine how many cards you need, and notify Livable Buckhead. Livable Buckhead will send you the initial order of cards plus 10% more to keep on hand for replacements or new participants.
Each month the Tran$ave coordinator notifies Livable Buckhead how many cards need to be activated for the following month. The order is due by the 10th of the current month for the following month.
Livable Buckhead will invoice your company via email within one week of submitting your order. Payment must be made in cash or check made payable to Livable Buckhead, Inc.
That's all there is to it! Please call 404-842-2684 with any questions or if you would like more information.  And if you'd like to use this program as a way to begin encouraging more of your employees to use commute alternatives like transit, Livable Buckhead would be glad to help with that as well.
Thank you for any efforts you undertake to help make this program a success.