Property Managers
In this ever-changing business environment, property management teams are continuously looking for ways to differentiate themselves from their competitors. Socially and environmentally responsible programs and features attract high-end, quality tenants.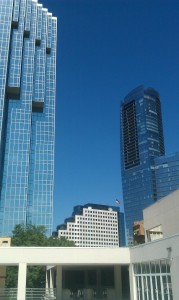 By partnering with Livable Buckhead, your property management team will have access to key resources and assistance for developing and implementing a comprehensive commute option program that will appeal to both current and prospective tenants.
Encourage and support your tenants' alternative commute efforts by getting involved with Livable Buckhead and promoting the use of commute options at your building.

Provide discounted monthly MARTA passes to your tenants.

Designate carpool and vanpool parking for your tenants.

Invite Livable Buckhead to your on-site events. Livable Buckhead is enthusiastic about attending any on-site event you may hold: tenant BBQ's, ice cream socials, tenant meetings, fire drills, lobby events, etc. We will set up a table at your event with information on commute alternatives. We will get your tenants involved with commute alternatives by engaging them with giveaways and games.

Livable Buckhead will host informative Lunch and Learn Seminars.

Disseminate commute options program information by forwarding our Buckheadlines monthly newsletter to tenants, sending program information to tenants via email, posting information on Captivate screens and posting lobby display boards.

Host a Livable Buckhead kiosk that provides continuous information regarding commute alternatives, "the buc" shuttle, and building-specific information.

Partner with Livable Buckhead to receive updates regarding area projects and incidents that impact your tenants, such as large-scale road construction and streetscape work that may increase traffic congestion, to ensure your tenants plan their trips accordingly.

Livable Buckhead will provide your leasing agents and employers with comprehensive packets of Buckhead transportation information highlighting the commute options in Buckhead and the available incentive programs.

Livable Buckhead recognizes properties who demonstrate the best use of available resources and creatively influence tenants to use alternative commute options, reduce trips and retool operations and maintenance activities by nominating them for Georgia Commute Honors Awards.

Livable Buckhead will provide you with real-time data on how your commute options are affecting metro Atlanta's air quality, with customized reports on your building's clean commute activities.