Employer Mode Count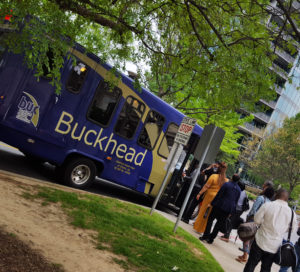 Q: What is a mode count? Why does it matter?
A: A mode count is information on the commuting choices of your workplace. It includes how many people use a specific mode (transit, carpool, vanpool, bike, walk, telework) and the frequency of use (# days/week).  
Mode counts are important because they:
Help you measure the impact over time of your company's commuter program, especially important if this includes a transit benefit. Once mode count data is submitted, Livable Buckhead calculates reductions in CO2 and vehicle miles of travel, and the total percentage of commutes to your work place that use an alternative mode. This information and more is included in a Transportation & Sustainability Report available upon request to Livable Buckhead partners.
Can help your company's real estate team plan for an over-allocated parking issue at your building, relocations, acquisitions, and expansions or reductions in leased space. 
Help your company respond most effectively to a transportation crisis.
Not sure where to start gathering this information? A survey is a good place to start. If your company offers transit benefits, you can also use program participation to count transit riders. Contact us for help capturing mode count data or to request a Transportation & Sustainability Report.