Commute
Traffic. Talk about a waste of time and money!
Livable Buckhead provides programs and services that reduce the number of cars on the road, saving you valuable time and money and making our air easier to breathe.
Livable Buckhead is a partner of Georgia Commute Options, a regional program that offers free support services and financial incentives that encourage carpooling, vanpooling, teleworking, transit, biking and walking.

To learn more about any of Livable Buckhead's commute programs, contact Nicole Smith, Nicole@livablebuckhead.org or (404) 842-2694.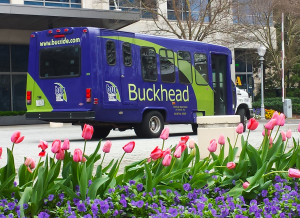 the buc Shuttle – Livable Buckhead, in partnership with the Buckhead CID, operates the buc, a free commuter shuttle service connecting workplaces to MARTA rail stations.
Commuter Programs – If you're looking for a better way to get to work, Livable Buckhead can help. Learn more about commute options and how you can earn cash and prizes for giving them a try.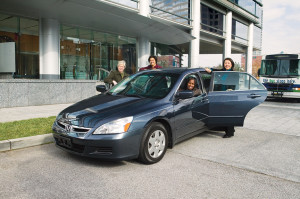 Employer Programs – Helping your employees find a better way to get to work is a win-win proposition. Learn more about the benefits of implementing a commute options program at your workplace.
Property Manager Programs – Commute options programs enhance your building's marketability and sustainability. Learn more about the benefits and how LBI can help.
Additional Resources – Find links to log your commute, ridematching, Guaranteed Ride Home and more.