Buckhead REdeFINED – SOUTH PIEDMONT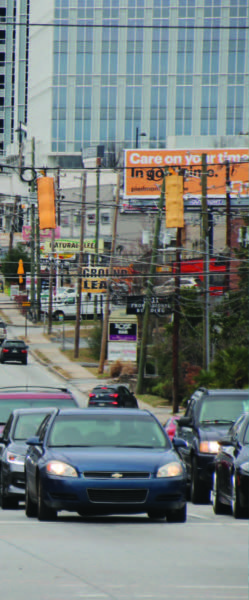 South Piedmont offers a variety of quality retail and restaurant destinations, but the setting is almost entirely automobile oriented and extremely difficult for pedestrians to navigate. The corridor has been subject to numerous studies, as recently as the mid-2000s and each has contemplated improvements to Piedmont Road. Building upon previous analyses and conclusions, this plan prioritizes improvements to Piedmont Road to better balance vehicular and pedestrian mobility; offers redevelopment strategies for key development opportunities; and identifies public space and public art opportunities.
The image to the right illustrates one potential strategy for the future corridor. Redevelopment in this area should include a mix of uses,
with an emphasis on residential, the incorporation of a shared public space or park, and access to the proposed Buckhead Cultural Loop
Trail.
Six catalyst projects in the South Piedmont subarea, include:
South Piedmont Public Park (V.37)
Public Art to screen GA Power Substation (V.38)
Piedmont South Corridor Enhancements (M.8)
Intersection Improvement – Piedmont at Peachtree Road (M.11)
Buckhead Cultural Loop Trail – Peachtree Park Neighborhood Segment (M.23)
New Roadway between Maple and Piedmont (M.45)