Buckhead REdeFINED – LENOX SQUARE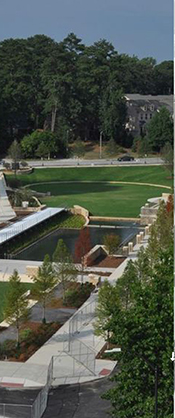 The intersection of Lenox and Peachtree Roads defines Buckhead's commercial and civic heart. It is anchored by Lenox Square Mall, one of the nation's most successful indoor shopping centers. However, like much of Buckhead, the area includes surface parking designed around outmoded assumptions regarding consumer preferences. What once provided convenience to shoppers arriving by car now inhibits access from those arriving on foot and by transit.
The subarea offers ample redevelopment opportunities at a variety of scales that can take advantage of transit service provided at MARTA's Lenox and nearby Buckhead stations. Recommended projects seek to ensure priority public spaces for the future, high quality and appropriately-scaled new mixed use development, improved wayfinding, and greater pedestrian and bicycle access, including incorporation of bikeshare programs at key area destinations. While development in the subarea is underway, as it is throughout Buckhead, it is important to prioritize identification of desired public spaces before redevelopment is complete and future greenspace opportunities disappear.
Six catalyst projects in the Lenox Square subarea, include:
Buckhead Cultural Loop Trail (M.19)
Lenox Square Mall Lifestyle Center (V.53, V.54)
Promenade Park at Lenox & Peachtree (V.55)
Lenox Linear Park (V.56)
MARTA Lenox Transit Station Improvements (V.57, V.60, V.61)
East Paces Ferry Multi-Use Trail (M.16 – currently underway)