Buckhead REdeFINED – BUCKHEAD VILLAGE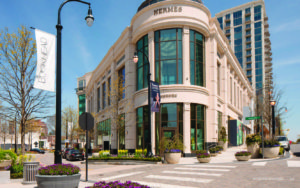 Buckhead Village experienced the district's most significant investment and transformation in recent years. Covering six city blocks within the Buckhead Village, The Shops Buckhead Atlanta opened in late-2016, setting the tone for the future of the subarea. The walkable, open air, dense urban development includes wide sidewalks, mature landscaping, quality architecture, and a vertical mix of uses.
Recommended actions look to extend and build upon the character of the multi-block private development, including new street connections, prioritizing appropriate development of the subarea's remaining development sites, and adding public space.
Five catalyst projects in the Buckhead Village subarea, include:
Public Space on former Sports Authority and/or American
Software Sites (V.15)
Redevelopment along Peachtree Road east of Loudermilk Park
(V.16)
Buckhead Cultural Loop Trail – Buckhead Village Subarea (M.22)
Multi-Use Trail along North Fulton Drive (M.27)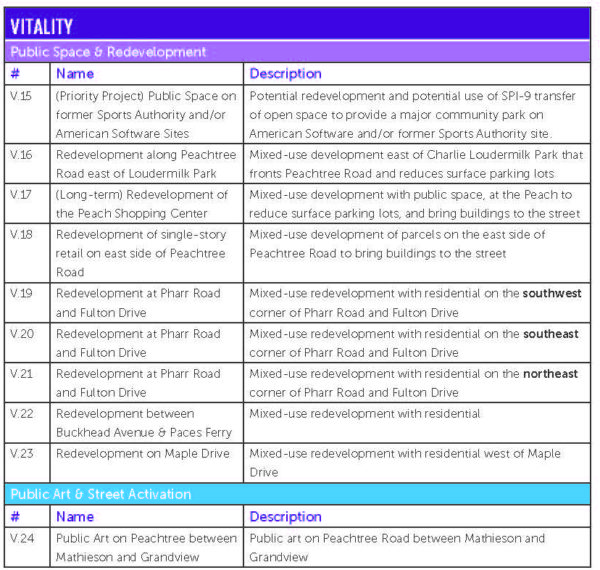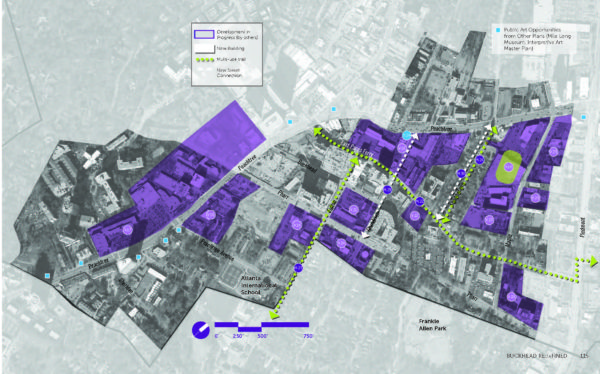 BUCKHEAD VILLAGE PARK
The greatest opportunity to accommodate a significant public space within Buckhead Village is the redevelopment potential of the American Software and former Sports Authority properties. Together, these parcels could accommodate a significant private development and a community open space, much like Marie Sims Park located in the Lenox Square subarea.
INFILL REDEVELOPMENT
A collection of surface parking lots and outdated single-story buildings remain prime for redevelopment. These opportunities are critical to acheiving desired community character. The buildings should be replaced with high-quality, mixed-use, street fronting buildings that contribute to overall connectivity, walkability, and sense of place in accordance with SPI-9.