Buckhead REdeFINED – BUCKHEAD LOOP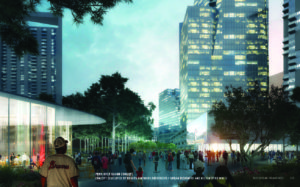 The Buckhead Loop is the core Buckhead business district. This subarea's buildings contribute to Atlanta's skyline with some of region's most iconic structures including Tower Place, Terminus, Sovereign, Alliance Center, The Mandarin Oriental and The Ritz-Carlton, Buckhead. These buildings, along with Phipps Plaza and a host of future proposed developments, form Buckhead's most densely developed zone.
The subarea is physically divided by GA400 and is bounded by Lenox, Peachtree, and Piedmont Roads. While efforts have been made to connect the east and west sides of Buckhead through the addition of the pedestrian bridge at the Buckhead MARTA transit station and streetscape improvements along Peachtree Road, the subarea continues to lack connectivity and a unified sense of place.
The legacy of auto-oriented development patterns remains. Years of private development decisions have created a secondary network of disconnected internal private roadways separate from the area's public realm and main corridors. Surface parking lots and single-story strip-style development co-exist amongst some of Atlanta's densest and most urban conditions.
Four catalyst projects in the Buckhead Loop subarea, include:
PATH400 Completion (M.5)
Park Over GA400 (V.41)
New Roadway from Wieuca to Peachtree Dunwoody (M.17)
Lenox Road Corridor Enhancements (M.34, M.35)
Improvements within Buckhead Loop seek to create stronger connections by physically unifying the character of the subarea and overcoming physical infrastructure barriers. Other Buckhead Loop subarea recommendations include:
Improved access ramps and traffic operations at GA 400
Continued study and implementation of a significant green space additions
Multimodal access to/from the existing PATH400 Trail
Expanding and connecting internal connectivity and the network of private local streets
Phased enhancements to Lenox Road between Peachtree and Piedmont Roads, including
the redesign of the Monarch Drive ramps
Redevelopment of underutilized parcels with mixed-use development, complete with
publicly accessible green spaces and plazas