City Place, East Paces Ferry – Roxboro
Project Scope: Development for the former City Place site located between Roxboro, Oak Valley and East Paces Ferry.
Click image below to download project files: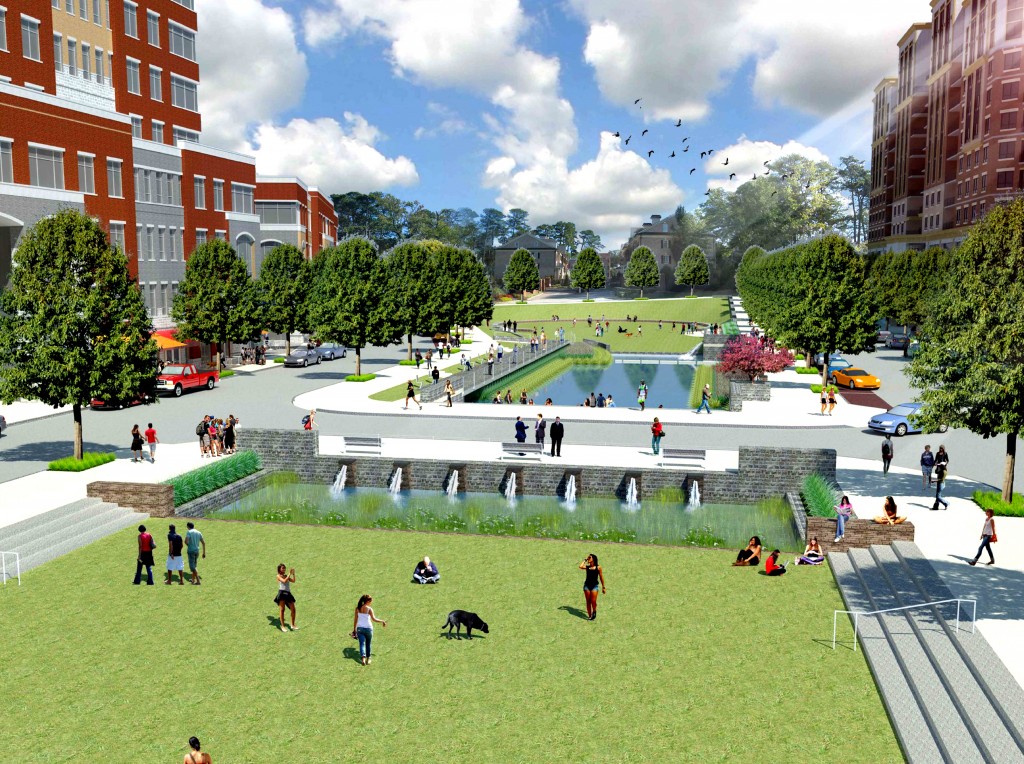 Applicant:  Bob Hughes, HGOR (on behalf of Wellsfargo)
SAP#: 
Variation Requested: Master Plan
Bob Hughes, HGOR, presented a proposed master plan for the former City Place site located between Roxboro, Oak Valley and East Paces Ferry.  Basic features of the proposed plan are outlined below:
Central 2 acre park to be developed as storm water detention to service the site.  Park timed to be developed with the first development site that moves forward.  Park separated into two discreet pieces.
4 individual development parcels – which will each come in separately for review as they are developed.
Association to be established to oversee common areas (park).
Plan provides street network including connectivity to East Paces Ferry, Wright Ave, Kingsboro, Oak Valley and Roxboro.  Roads anticipated to be dedicated to City as public roads.
Connection to Roxboro right in right out only.
All roads to meet streetscape requirements and are anticipated to be designed in a consistent manner throughout the development (specifically regarding sidewalk materials)
 General Observations:
Developer would like to see a road diet on East Paces Ferry to facilitate connection to Lenox MARTA station.
 There is some question as to the legal validity of the conservation easement surrounding the open space in the northeastern corner of the site that needs to be resolved.
The road placement between parcels "B" and "C" is intentionally left somewhat flexible to be adjusted for future development opportunities.
The committee noted the presence of a pedestrian easement through the former Starwood site that might be incorporated to provide connectivity to Lenox Road.
The Development of the parcels is intended to be between 225' and 600' as dictated by the height plane.
The city's transportation staff comments that the transportation network is redundant and may allow for more space to be reclaimed for open space.
Recommendations:
The committee formally commends WellsFargo for working with the community through the SPI-12 rezoning process to ensure the future vision for this site is protected and defined prior to bringing the property to market.
The committee recommends the plan be amended to ensure parcel "A" will be developed with a "gateway" element at the corner of Roxboro and East Paces Ferry.  The committee recommends inclusion of additional greenspace and/or public art in this area.
The committee recommends the City take the actions necessary to "swap" the public right-of-way previously proposed with the net street network presented in the master plan.
The committee recommends approval of the proposed master plan with the park and street grid presented with the modifications noted above.