Capital Campaign Overview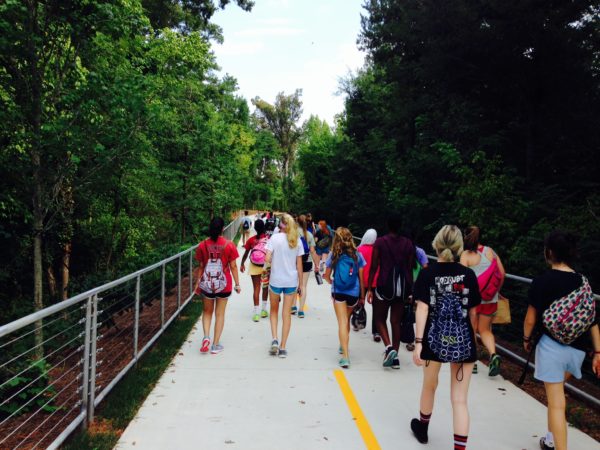 The Capital Campaign for PATH400 is funding construction for 5.2 miles of walkable and bikeable greenway in Buckhead. Launched officially in November 2015, the Capital Campaign builds upon investments from the PATH Foundation, Buckhead Community Improvement District, and others to help fund the $27M project. In the next 12-18 months, the PATH400 Capital Campaign will raise the final $9M in funding from the Buckhead community. Some of this funding will be allocated through the 2016 TSPLOST to support trails in metropolitan Atlanta. However, most of the funding for PATH400 comes directly from individuals, corporations, and partners. 
SUPPORT PATH400 with a donation.
With approximately 2.5 miles already complete, PATH400  provides a sense of place for the community. The greenway also provides walkable and bikeable access to community amenities such as art installations, historic and cultural exhibits, neighborhood pocket parks and greenspaces, retail centers, and learning centers. PATH400 is also recognized as a critical connection to the regional trail system surrounding metropolitan Atlanta, including the Atlanta BeltLine, the South Fork Conservancy trails, and the planned Peachtree Greenway. Livable Buckhead is also working with other jurisdictions to extend PATH400 beyond the city limits, through the 285/400 interchange, into Sandy Springs and Dunwoody and north. But first, we need to complete the Buckhead segments!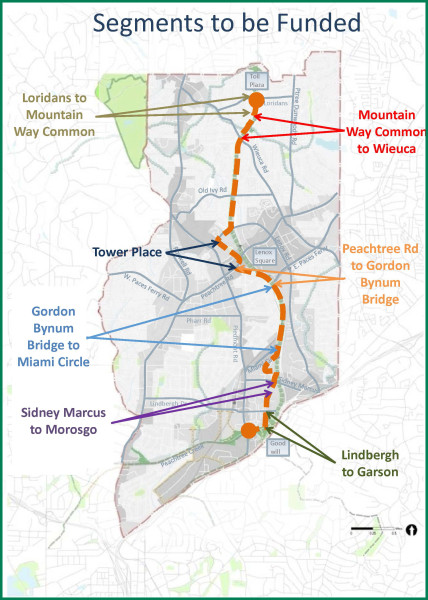 The funds raised through the Capital Campaign for PATH400 support:
Land acquisition
Programming
Construction of the following segments:

Loridans Drive to Mountain Way Common
Mountain Way Common to Wieuca Road
Peachtree Road to the Gordon Bynum Bridge
Gordon Bynum Bridge to Miami Circle
Sidney Marcus Boulevard to Morosgo Drive
Lindbergh Drive to Garson Drive
The diagram on the right illustrates the segments to be funded through the Capital Campaign.
The capital campaign closes the gap in funding available for the total project. CLICK HERE to view the cost breakdown.