AMLI – Apartment Development City Place (Site A – East Paces Ferry)
Project Description: New Construction.  The proposed development is 400 units of rental housing – 65% studio/one bedroom and 35% two bedroom.  935sf is the average size unit and the site is 4.4 acres .  There are 671 parking spaces, 9,000sf of amenity and lobby areas, as well as a rooftop deck overlooking the park.
Please click on image below to download all documents: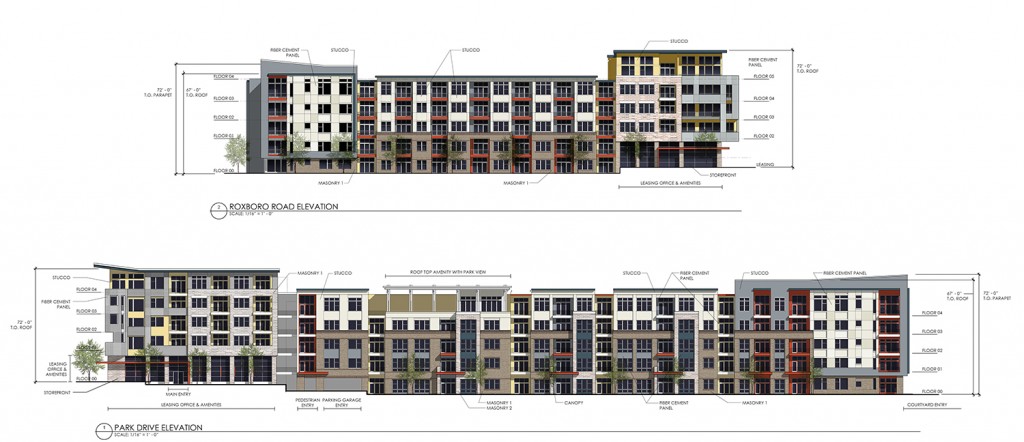 Applicant:  AMLI – Fred Scheiber /Smith Dalia
SAP#:
Variation Requested: 
Recommendations Regarding Variations:  Section 16-18L.011(c)  The committee noted the need to incorporate active sidewalk level uses along Roxboro Road.
Section – 18L.014 (3) – Sidewalk materials must be continuous across driveway aprons and curb cuts.
Recommendations for Changes:  The committee expressed a very strong desire to incorporate at least minimal amounts of retail to support basic residential functions to position the development as a less automobile dependent configuration.  The committee does not agree with the applicant's position that this small scale retail would not be supported by the market.  Several recent examples of comparable projects where this has been done successfully are currently under development in the City, including 280 Elizabeth Street in Inman Park and MARTA's King Memorial transit Station.  The committee strongly encourages the applicant to reconsider their position.
The committee notes that Public Works might have an issue regarding the separation distance between the curb cuts on East Paces Ferry Road as they appear too close together.
Suggested Considerations:  The committee notes that the block is very long and suggests the applicant consider enhancing the architectural emphasis of the articulation in the façade to help break up the visual impact of the development.  Emphasizing the height difference between the sections is one suggested consideration.
The committee recommends the applicant coordinate with the Buckhead Community Improvement District to address East Paces Ferry Road and explore options for enhancing street level pedestrian connectivity to the Lenox MARTA station.
The committee notes that the intersection of Roxboro and East Paces Ferry is a significant point of entry to Buckhead and recommends the applicant ensure the southeastern corner of the site be addressed to maximize the experience and sense of arrival to the community.