AC Marriott Hotel Wieuca at Peachtree
Project Scope:  New Construction.   A new 6-story Marriott brand hotel under a new Spanish AC brand is being launched across the country.  The brand is described as "design forward" and "sexy," catering to millenials.  Price points are high, there is no conference/meeting space, but there is an indoor pool and 2 levels of parking which connect at the bottom level vehicularly and for pedestrians on the top level.  The proposed development also includes a future phase of development on the Peachtree frontage with an outparcel for anticipated restaurant development which will come before the committee separately.
Please click image below to download all documents: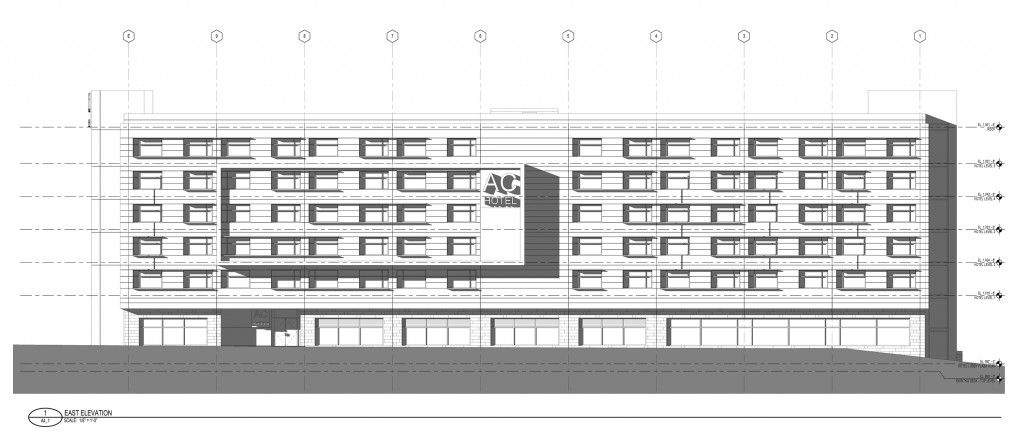 Applicant:  Cooper Carry – Lee Ayers
SAP#:
Variation Requested:
 Recommendations Regarding Variations:  Wieuca Road is the primary street for all street-space requirements, and Longleaf should be treated as a local street.  The following requirements should be satisfied.
Section 16-18L.011(3) Fenestration requirements along Longleaf/Service road are 25%
Section 16-18L.011(c)  Active uses shall be provided within buildings and parking structures for the entire length of said building façade  except ingress and egress points into parking structures of loading areas. (Wieuca Road Back of House functions).
Section 16-18L.011 (5)(a)  entrances shall be architecturally articulated and face, be visible from, and be directly accessible from the adjacent public sidewalk.  The use of fire escape, entrance only and exit only doors as primary entrances is prohibited. (Wieuca Road entrance).
Recommendations for Changes:  The committee recommends the applicant work with Simon Properties to facilitate pedestrian connectivity from the hotel across the Nordstrom parking deck to the mall (i.e. striping).
Suggested Considerations:  The committee recommends the applicant explore opportunities to incorporate hotel signage on Phipps Boulevard at Longleaf- within sign ordinance requirements – to facilitate accessibility and avoidance of the Wieuca Road intersection.
The committee recommends providing Buc shuttle connectivity to the extent same is consistent with the site plan.  The committee recommends that the driveway from Wiueca onto the property be permanently limited to ingress only.
The committee does not need to see the hotel back, however, when the future outparcel is developed, it will need to be presented to the committee.