3091 Maple – Broadstone Maple
Project Description: The applicant presented elevations and plans for 250 unit apartment complex (70% 1-bed, 30% 2 bed) on Maple Drive to replace two existing buildings.  The plans are very early in development and do not reflect a significant level of architectural detail. Specific elements are noted below:
Plans include 338 parking spaces in two stories underneath the building with a shared parking arrangement for 35 to 40 spaces with the adjacent commercial property facing Piedmont Road. Parking will be accessed from the side driveway and also on the east corner facing Piedmont at controlled times.
Two points of access from Maple Drive.
Street frontage is to be activated with placement of clubhouse and leasing functions.
Dog curbing/park to be included on the southern edge of the site accessible by a grand stair and considered part of their open space.  This area shall be accessible by an unlocked gate.
Bike parking to include 50 spaces – 4 will be out front and the rest inside and secured
Stormwater management will be handled via underground storage, bioswales and some reuse of water.
Efforts will be made to meet NAHB standards to ensure energy efficiency.
Recycling has not been planned yet, but will be incorporated either through a valet operation or a separate chute.
Loading and dumpsters will occur on the northern edge of the site.
The development will include two (2) loading dock instead of the required three (3).
Click image to download all documents: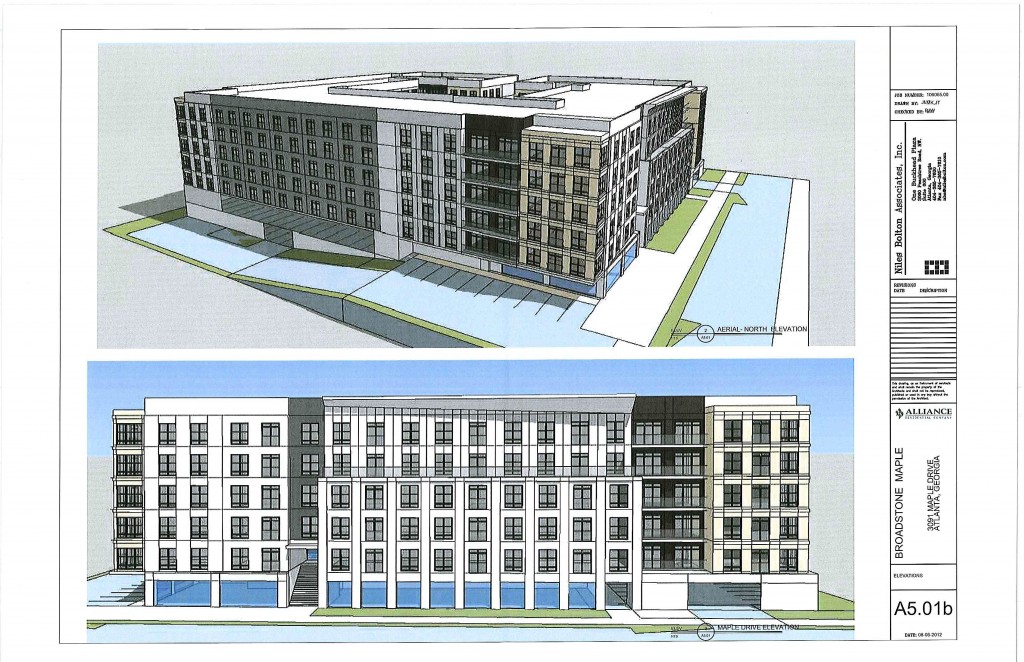 Applicant: Alliance Residential – Bob Weston
SAP#: Formal Application Not Yet Submitted to the City of Atlanta
Project Scope: Demolish existing commercial buildings and construct a multi-family building.
Variance Requested: Parking and Loading
Recommendations:
The committee made the following observations/recommendations:
–          Plans for the area include a future road connection between Maple and Piedmont and the side drive should be designed with this in mind and the ability to be activated.
–          The future resident parking located along the northern driveway must be screened from Maple Drive.
–          Shared parking agreement is commended.
–          The Applicant should make every effort to include "green" components.
–          The Applicant shall keep the DRC committee abreast of any significant changes to the plans and submit plans electronically once they progress to a level of significant detail.
–          The committee is in Agreement with variations needed to accommodate the proposed 338 parking spaces and sharing of 35-40 with adjacent site.  A formal agreement for the sharing should be presented to the committee.
–          The committee is in Agreement with the variations needed to accommodate the reduction in loading spaces provided the property management team establishes and actively managed plan for scheduling move ins/outs.