128 E. Andrews Drive
Project Scope:  The applicant is converting the former Tavern 99 to a new BBQ restaurant including interior renovations, roof repair, the addition of new service doors to the patio, wood accents around the windows and entrance and adding "accordion style" windows.
Click image to download all documents: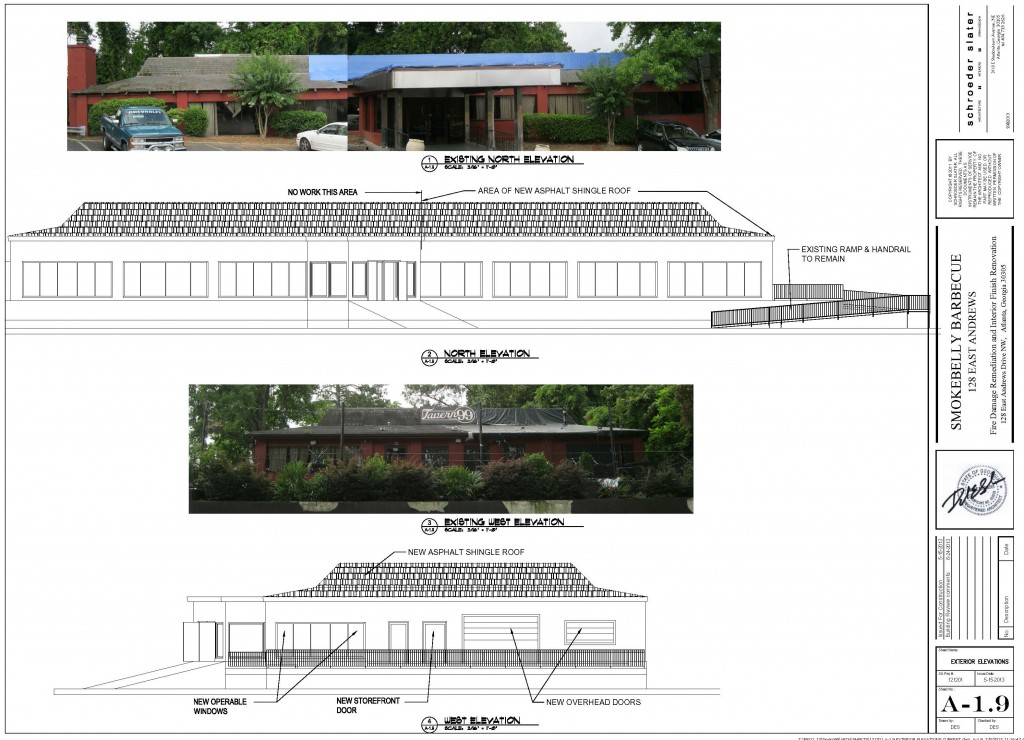 Applicant:  Smokebelly BBQ
SAP#: SAP -13-128
 Variation Requested:
Sec 16-18I.017(5) – The DRC recommends the applicant provide a fenestration calculation to the City to ensure the street front fenestration requirements (65% of the length of the façade) are satisfied.
Sec 16-18I.022 and .023 – The DRC recommends the parking lot be brought into compliance with parking lot landscaping requirements including 36 to 42" vegetative screening between the sidewalk and the street (planters or a planted landscape strip).
Sec 16-18.019 (4) – The DRC recommends the applicant provide clearly demarcated pedestrian access across the parking lot to provide a connection from the sidewalk to the entrance of the restaurant.
Sec 16-18I.025 The DRC recommends the inclusion of a bike rack to accommodate 2 bicycles.
Sec 16-18I.017 (5) The DRC recommends the dumpster be screened in accordance with the code which requires a 6 foot opaque enclosed structure with a gate.
The DRC notes the canopy overhangs the adjacent property and recommends a copy of the easement to allow this condition be provided to the City.